Whatever your business, focus on what your customers want... by asking them.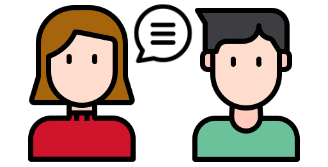 Design a great experience by testing with real people.

Test during design and save on development costs.

Dig deeper into issues that might affect conversions and revenue.
We have a test for every situation,
Usability testing
Test wireframes, prototypes or finished websites or apps with your users to gain essential insights to help improve your design.

Play testing
Put your Casino, table or slots game through it's paces with real players. Use their experience to improve your experience.
Tournament testing
Test your game and gauge reactions live with up to 10 players and see how they play in a competition scenario with a fixed bankroll.
Preference testing
Get help with your product and marketing choices by finding out what your customers prefer, helping you make the right decisions.
We work with you on,
Task creation
We get to know your product and what you are looking to find out so we can ask the right questions to get the answers you need.
Participant sourcing
We can find you participants that match the demographic of your customers from our extensive list so we can test with typical users of your product.
For remote testing that requires a specific nationality, we can also source those participants as well.
Session duration
We will advise on how long you need to get the best answers, from 30 minutes for quick insights up to 60 minutes to dig a bit deeper.
Location
Most testing can be done remotely, however you might want to take advantage of the insight that eye tracking on desktop can provide, we can help with that by testing in-studio.
You benefit from,
Live moderation
All our testing sessions are moderated live allowing us to get the best insights from the participants. See something that takes you by surprise? Message the studio and we will ask extra questions to get to the detail.
Session videos
We provide you with the full session videos free after the last session, we refer to these by timestamp if you choose a detailed report.
Remote streaming
If you can't attend the testing sessions in person, we can live stream the studio feed so none of your colleagues miss out.
Essential insights
We create reports based on the insights we discover, you can choose to have this in a simple list, detailed with suggestions on improving the UX or presented in a workshop.
Cost savings
We ensure that we provide you with a cost effective solution with our testing services. Not only are they affordable, by testing early on in the design process you can save expensive development costs by getting it right first time.
Return on Investment (ROI)
Depending on what improvements need to be made as a result of testing, ROI can be commonly measured with KPIs, increased conversions and customer satisfaction surveys. The better the customer's experience the more likely they are to spend money and refer your brand to others.
The Use Ability studio,
In studio testing
Desktop testing
The studio computer is loaded with the latest versions of all current Windows browsers. Should you wish, you can bring your own laptop along and connect it to our recording software using the provided HDMI cable. This is ideal for testing pre production software, wireframes, prototypes and sites that aren't live on the Internet.
Eye tracking
When performing desktop testing in our studio, you can make use of eye tracking which shows as a red blob where the participant is looking on screen. This allows you to easily see which areas of the screen catch the user's eye.
Device testing
Our studio also features a permanently setup device testing area. When performing device tests we capture the screen of the device using Airplay or Chrome cast. There are also cameras positioned to capture the device being used including the participants gestures and a face cam to capture facial expressions.
Remote testing
Desktop and Device testing
The remote participant is contacted via Skype, the studio computer can take the feed from the participants camera as well as the remote screen sharing and an in studio face cam of the test moderator and combine these to provide the recorded output.
Fully configurable testing
Total control
The moderator can make use of a keypad to switch between desktop, device and remote test configurations. They are also able to control the starting and stopping of recording and streaming.
Audio and Video capture
In the studio, audio of the participant and moderator is captured using a studio quality microphone, video is captured via multiple HD cameras allowing for views of the participants face, interaction with the moderator and views of the device during device testing.
Recording and streaming
The sessions for both in studio and remote testing are recorded in high quality on our internal network. These are then made available on a secure file share for you to view later. The sessions are also streamed live to our observation room where you are able to interact live with the moderator via Skype.
Observation Room
If you are attending the studio, you can observe the testing from our observation room. You will see the studio feed on one of the 40" HD TVs. The studio feed can also be streamed to other members of your company that cannot be there in person, live via Zoom.
Internet connection
The studio is equipped with high speed Business Internet to connect our internal network to the outside world. We also have fast guest Wi-Fi available should you need to get some work done in between testing sessions.